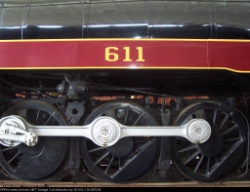 Welcome to the RRPictureArchives.NET contributor site of DOUG COLDIRON.



This is my collection of photos... taken from around home in Bristol, VA and around the country. I'm an over-the-road truck driver and always keep my camera handy for a quick shot!

My mom was a telegraph operator on the N&W from '51-'71, on the Radford Div. My step-dad was with the N&W from the '40s til the '80s, as an engineer, running the J's and K's on steam passenger trains. Then Road-foreman-engines at Rook Yard in Pgh.Pa. As a kid we moved from Bristol,Va to Roanoke, to Pittsburgh. I guess I was kind of a "rail-brat"!

"Train-spotting is a lot like fishing"



You may browse my collection of pictures via the menu located on the left hand side of the page. I hope you enjoy the collection and thanks for stopping by!
Note: This site is best viewed in Internet Explorer 6.0 or above.
Select one of the links from the menu on the left to begin browsing the collection.